Discussion Starter
·
#1
·
The reviews for the XC60 Recharge are out. What do you think of the reviews so far?

Car and Driver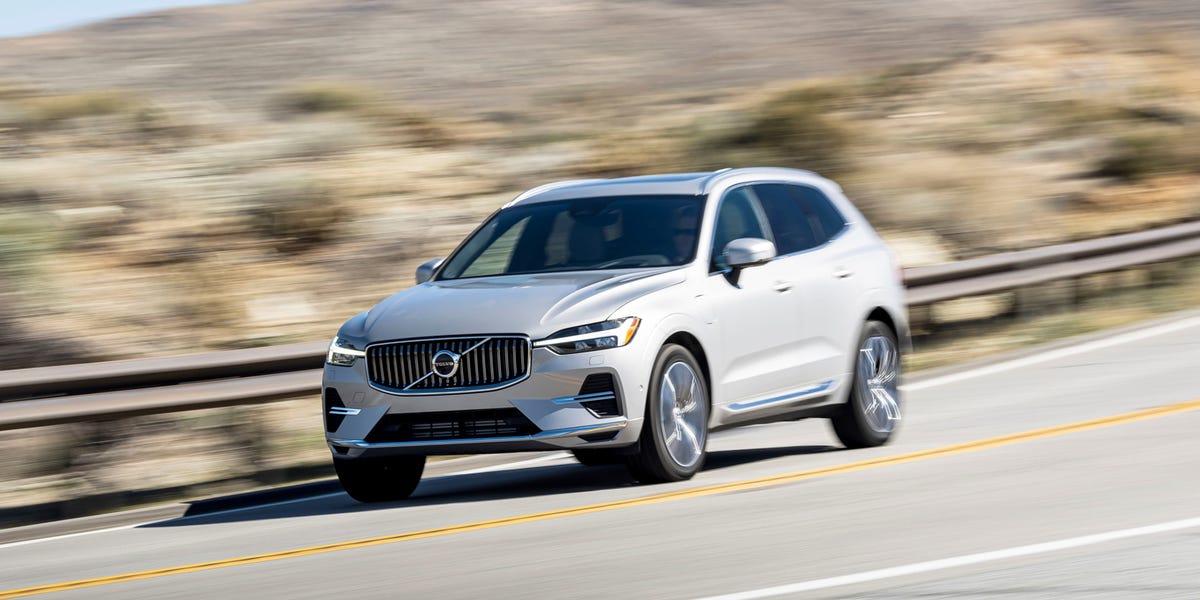 A bigger electric motor and more batteries make the plug-in-hybrid SUV leaner, meaner, and cleaner.
www.caranddriver.com


External updates are subtle for this refreshed and still quite handsome model, with a new grille and rear bumper its most noticeable external changes. Prices start at $55,845, so the XC60 Recharge T8 Extended Range is not cheap, though, in an era of rising car prices, surely reasonable. Nor is it as expensive as it feels, with quality fittings and distinctly good looks that amount to extraordinary style in an era where cheap plastics dominate and, with few exceptions, SUVs tend to toggle between ugly and boring. This XC60 Recharge is neither, and its revised, ultra-modern dash and uniquely stylish interior design help make it legitimate competition for models costing far more. Particularly appealing was our sample's fabric seating, a wool blend (available only in gray) that promises to be comfortable in extreme weather both hot and cold.

All in all, the XC60 Recharge T8 Extended Range provides proof that in car manufacture as in life, having the money to up one's game is preferable to not.

AutoTrader Canada


Its 2022 refresh may be subtle to the eye, but the Volvo XC60 comes packing some important updates.
www.autotrader.ca


Final Thoughts
This slick Swede is surely a lovely – and very complex – piece of kit, yet despite the astounding array of technology lurking beneath its skin, all the electronic and mechanical systems operate in a cohesive, transparent fashion. With a claimed electric range of 58 km, the majority of buyers will likely forget what it's like to buy gas and grow to love one-pedal driving.

This extended range powertrain will make it across the rest of Volvo's current PHEV lineup – those being the XC90 sport utility, S90 and S60 sedans, and V60 wagon – in the near future. Bragging rights come with this as well; they're the most powerful models Volvo has ever sold.

Expect the 2022 Volvo XC60 Recharge Extended Range in showrooms by early April. At the time of this writing, Volvo hadn't announced Canadian pricing. The standard-range 2021 XC60 Recharge started at $68,800 before freight and tax.

Autoblog
Our first drive of the 2022 Volvo XC60 Recharge extended range, where we explain what's new and how the Swedish SUV drives.
www.autoblog.com
f you were thinking of upgrading for the aesthetics — don't — this XC60 Recharge is largely about what is underneath, not what's on the outside. That said, Volvo gave the XC60 a new grille, including a new Iron Mark logo that integrates the radar systems that is also heated to resist ice and snow buildup on the sensors. It gets a slightly different front fascia and also integrates the exhaust pipes under the rear bumper and out of sight. Beyond new wheel and color options, the new XC60 is difficult to distinguish from the pre-refresh version.
The light aesthetic changes aren't exactly detrimental to us, though, as the XC60 Recharge looked good before, and now it drives even better. In its most basic form, the XC60 Recharge Extended Range stickers at just $55,345. This is comparable to the Lexus NX 450h+, and a few grand more than the Lincoln Corsair Grand Touring – the only other plug-in hybrid compact luxury SUVs. Like the Lexus, the XC60 is now eligible to take advantage of the full $7,500 tax credit due to the larger battery pack size, making it an even more affordable option. The version we drove crested $70,000 on account of it being a fully-loaded Inscription model, but you don't need to tick every single box to have a superb plug-in hybrid driving experience.
This update is truly one that addresses our biggest complaints about Volvo's past T8 Recharge models, and it turns the XC60 into a highly-viable PHEV option for somebody who might not be ready to take the plunge into a full battery electric vehicle. The "Extended Range" powertrain is an update that is scheduled to be released across the whole Volvo PHEV lineup, too, modernizing all of the Recharge models in what looks to be an exceptional way.
Forbes
Midway through the 2022 model year, Volvo is launching an updated plug-in hybrid powertrain that boosts the electric range of the XC60 from 19 to 35 miles
www.forbes.com
When driving the Volvo PHEV with the transmission in drive, regenerative braking is mostly limited to when the brake pedal is actually applied, so the car coasts when the accelerator is released. For those that like one pedal driving as I do, another rearward tap of the crystal shift knob will engage maximum regen. Like many electric vehicles, the Volvo will bring the vehicle to a full stop without touching the brake pedal, a welcome change in urban stop and go.
Our drive route took us from Palm Springs Airport up into the mountains to the Coachella Valley Vista Point. The XC60, like most modern Volvos has a firm suspension that keeps body motions to a minimum but may transmit some information about the road surface to your backside, but not uncomfortably so. It's definitely not plush, but those in more northern states might want to avoid late winter potholes. In Pure mode with only electric propulsion, the XC60 had no problem climbing the hills and keeping pace with traffic. On the way down, with one-pedal mode engaged, it recovered over four miles of electric range over a six-mile descent. In all, the XC60 got just shy of 40 electric miles before switching over to normal hybrid mode. In hybrid mode, the XC60 is EPA rated at 28 mpg, a very respectable number for a crossover with more than 450-hp.